Malmö Airport
Discover the collection points that Duty Free Malmö makes available to travelers who wish to use the Reserve & Collect service, a convenient option that allows you to make your tax free purchases through the web. Thanks to this exclusive service you can browse our online catalog for your favorite items and, once you confirm your order, collect it at the Pick Up Point available at Malmö Airport.
This collection point is located inside the Duty Free store of the Malmö exit terminal, which you will quickly locate immediately after the security checkpoint, next to boarding gate number 1. Buying tax free alcohol in Sweden is possible thanks to the Duty Free store at Malmö Airport, or you can buy makeup and other cosmetic items from the most exclusive brands at a reduced price. Purchases made through the Reserve & Collect service will be ready to be picked up at our airport Pick Up Point up to two hours before your flight departs, helping you save time and money.
Remember that if you forget to include any of our products in your online order, you can always complete your purchase once you have visited our physical stores. If you have any problem locating the Pick Up Point inside the Malmö Duty Free store, do not hesitate to ask our employees, they will be happy to help you. In conclusion, do not miss the opportunity to buy tax free items with the most competitive prices thanks to the tax exemption that the airport benefits from. Place your order online today at Duty Free Malmö!
PP

Pickup Points (1)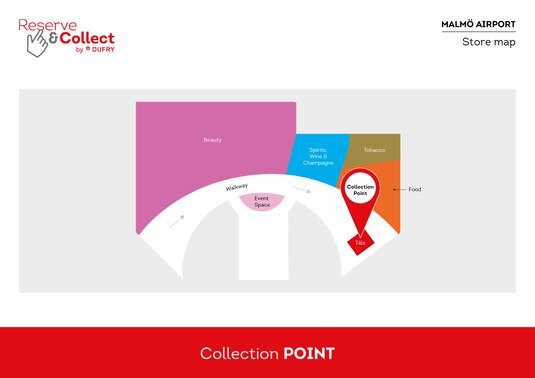 Malmö Duty Free
Malmö Airport
---
Your goods will be ready for pick-up 2 hours before the departure of the flight.
You can also do additional shopping while in store.
Our store is located after the Security check. The pick-up point is located in the till line.
---
Any questions? Find your answers in: How does the service work? and FAQs.